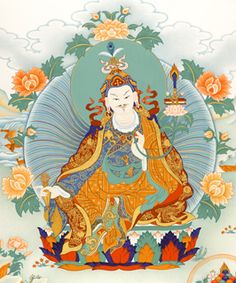 Palchen Study Group Seattle offers meditation, practice and study of Tibetan Buddhism in the treasure lineage of Terchen Barway Dorje and Dakpo Kagyu lineage.
We invite you to join us on our Sunday practices. Please see our schedule and location.
For more information, contact info@palchenseattle.org.
[Painting of Terchen Barway Dorje by Wendy Harding.]
"Terchen Barway Dorje cared deeply for educating lay people and for bringing the most powerful teachings to men and women living as ordinary people. In this he was something of an outsider. He could have lived as a monk, reserving the highest dharma for monks, but he chose not to. His students are the beneficiaries of a tradition that insists on bringing dharma to life through living it."
                                                                                 — Bardor Tulku Rinpoche
---
---

Bardor Tulku Rinpoche to teach in Seattle!
September 9 & 10, 2017
Saturday, September 9, 2017
10:00 am – Noon & 2:00 – 4:00 pm
Bardor Tulku Rinpoche
"If Your Heart Seeks Dharma" – A Selection from Treasury of Eloquence: The Songs of Barway Dorje
Treasury of Eloquence is a collection of songs and instructions composed by the great treasure-revealer and visionary teacher Barway Dorje (1836-1918). These songs express Barway Dorje's devotion to his gurus, explaining how to meditate on the mind's nature and offers advice on the practice of Buddhadharma.
Suggested Donation: $50, full day
Sunday, September 10, 2017 – Morning Session
10:00 am – Noon
Lama Yeshe Gyamtso
"How to Relate to One's Guru"
What is a Guru? Where does one find one? What do we do once we've found one? Lama Yeshe Gyamtso provides meaningful clarification and insight into this often misunderstood concept and most precious of relationships between a student and teacher.
Suggested Donation: $25
Lama Yeshe Gyamtso completed two three-year retreats during the 1980s at Kagyu Thubten Chöling under the guidance of Kyapje Kalu Rinpoche and Lama Norlha Rinpoche. He has since been teaching and translating for many great masters, including His Holiness the Seventeenth Karmapa and Bardor Tulku Rinpoche.
Sunday, September 10, 2017 – Afternoon Session
2:00 – 4:00 pm
Bardor Tulku Rinpoche
Atsara Empowerment
Atsara is an important protector practice in the Barway Dorje lineage. Dharma protectors, usually depicted as fierce deities, ensure that the compassionate activity of the Buddha's teaching is carried out successfully. The fierce appearance of such deities is not to be understood as something negative, rather it is to convey a very intense and capable compassion that can get things done by overcoming obstacles.
Suggested Donation: $25
Contact: Linda Lee
206-696-1627
info@palchenseattle.org
All events will be held at:
Room 307 – El Centro De La Raza
2524 16th Avenue South
Seattle, WA 98144
For PDF FLYER, click HERE.
No one will be turned away due to lack of funds.