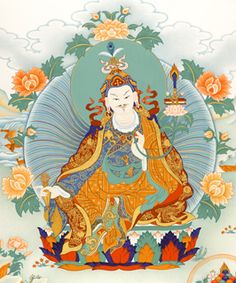 Palchen Study Group Seattle offers meditation, practice and study of Tibetan Buddhism in the treasure lineage of Terchen Barway Dorje and Dakpo Kagyu lineage.
We invite you to join us on our Sunday practices. Please see our schedule and location.
For more information, contact info@palchenseattle.org.
[Painting of Terchen Barway Dorje by Wendy Harding.]
"Terchen Barway Dorje cared deeply for educating lay people and for bringing the most powerful teachings to men and women living as ordinary people. In this he was something of an outsider. He could have lived as a monk, reserving the highest dharma for monks, but he chose not to. His students are the beneficiaries of a tradition that insists on bringing dharma to life through living it."
                                                                                 — Bardor Tulku Rinpoche
---
---

Save the Dates
Bardor Tulku Rinpoche to teach in Seattle!
September 9 & 10, 2017
Details to follow. Please subscribe to receive our updates.